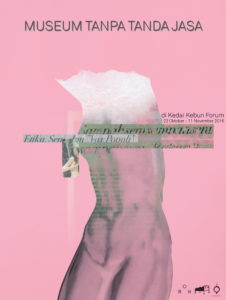 The Unsung Museum
Foreword
The three major milestones that restricted the freedom of expression in Indonesian society were repealed once the Reformation Era began; the Anti-Subversion Law, the Law on Press Publications Business License (SIUPP) and the Ministry of Information. Even so, the use of euphemism to blur (not just smooth) definition still continues to be used in our daily formal and informal conversations. This happens not only in political discussions but also in art discourse. The blurring of definition is the first step to avoid problems as well as a ground to never having to build equality in knowledge.
About
The Unsung Museum (Museum Tanpa Tanda Jasa) is an art project that aspires to ignite discourse about democracy in the Reformation Era with the arts community whilst not closing itself from the involvement of other disciplines.
Having in mind a number of concerns about the stability of (ideas within) democracy as well as democratic behavior in today's society, our main question is: What does democracy mean to each and every one of us today? (As part of the society, as citizens, and as someone who works in the arts.)
The Unsung Museum is amobile museum. Museum as a form was chosen due to its informative nature and educational aspects, as well as its openness and readiness to the public from various communities.
We are retelling stories of several artworkds that were once considered 'nuissance' to the society within the Reformation Era due to three recurring reasons which were pornography, communism and SARA (ethnic, religion, race and inter-group relations) by three elements of the society (citizens/individuals, mass organisations and government apparatus). Based on these assumptions, several artworks were weathered with a variety of problems ranging from threats, restrictions, even destruction.
Within conversations surrounding these artworks, the conclusion is often misunderstanding. The arts community considers the dismissal of these artworks were due to some people having misunderstood or failed to understand altogether. In fact, quite often the misunderstandings come not only from those who dismiss these artworks but also from the arts community itself (artists, curators, exhibitors, gallery managers, etc). The Unsung Museum is not an attempt to point out rights and wrongs. In light to democracy, we want to poke people's awareness on equality of knowledge upon rights and obligations of the various elements in the arts community—within art disclipinary context.
Initiators
The Unsung Museum is initiated by Aliansyah Chaniago, Fajar Abadi RDP, Grace Samboh, Jim Allen Abel, Julian Abraham 'Togar', Maryanto and Tamara Pertamina; and aspires to continue inviting more people over time.
The Unsung Museum
Opening : Saturday, October 22, 2016, 7.00 pm
in Gallery, Kedai Kebun Forum
The exhibition runs until November 11, 2016
Open for public and free of charge
every day at 11:00 am to 9:00 pm
(KKF is closed every Tuesday)