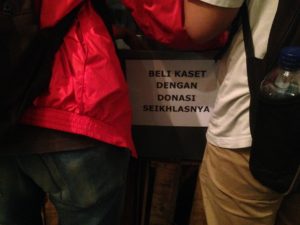 Photo: Yumaya Mija/Documentation of Kedai Kebun Forum
After well received by the public with the Kios Kaos and the Toko Buku Andalan, Kedai Kebun Forum launched another breakthrough agenda entitled Pop Up Toko Musik Podomoro. This event shows and sell music products of music stores and indie record labels from Jogjakarta such as Samstrong Records, [at]Demajors_Jogja, DoggyHouse Records, WLRV, Otakotor Records, Mindblasting, Pengerat Shop, Disgusting Tape, Roots Music, Jesuiscidal Records, Rilisan Fisik, Deep, Altar Alpokalips and Yes No Shop. Music products which being presented are CDs, cassettes, vinyls, and zines. There are also 3 exhibitions of Perpustakaan Hip Hop Nusantara, Indonesian Celtic Punk Movement Exhbition, and personal bootleg tapes.
Pop Up Toko Musik Podomoro initiates by Agung Kurniawan, an artist who also artistic director and owner of Kedai Kebun Forum. Triggered by how the way music people thinks which simple yet effective and also their spirit of survival. Despite transactional activity for nominal consciousness only, Agung keen this project also able to give more value to the music and at the same time working as common room of dissemination of knowledge. Music as a vehicle or a bridge and not a dogma, to deliver messages, knowledge, and even history, which could not be advocated or accommodated by other forms of media and arts. Podomoro been adopting from the name of a legendary music store in Jogjakarta at the end of 1960-90s.
As the collaborator of this project, Agung working with Martinus "Menus" Indra Hermawan. Menus is a music activist and known as one of the instigators of Jogjakarta underground music. The initiator of Jogja Records Store Club chosen by Agung based on his success and ability to establish and strengthen music community. Menus also assessed as having about the same taste and perspective of music with Kedai Kebun Forum.
Besides the exhibition, Pop Up Toko Music Podomoro punctuated by the other interesting activities related to music such as sharing with record label owners in Jogjakarta, discussions, workshops, songs making by local musicians. Pop Up Toko Musik Podomoro opened on December 21, 2016 and will run until January 7, 2017 at Kedai Kebun Forum. |Yumaya Mija|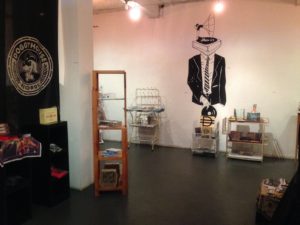 Photo: Yumaya Mija/Documentation of Kedai Kebun Forum