Theatrical Project: Only Death Waits Faithfully.
15 May, 2015, 7:30 pm at the IFI Auditorium, Yogyakarta.
Director: Agung Kurniawan
Musical arrangement: Frau
Poetry and text: Gunawan Maryanto.
Performers: Frau, Gunawan Maryanto, Budi ND Dharmawan, Yosep Anggi Noen, Hahan, Mlenuk Voice
"Because the singular certainty of our lives is, absurdly, death. Love, happiness and sadness come and go, but death does not, it waits faithfully for us. Everyone we love will eventually leave, tiptoeing away from us, but death will not. He waits kneeling in a dark corner of our lives, until finally he can be present" – an excerpt from poetry by Gunawan Maryanto and Agung Kurniawan, in the Pamphlet for the Theatre Project Event: Only Death is Waits Faithfully.
Death seems to be different issue from the others we must face in life. However in society in general, death is often seen from one perspective: grief or the end of life. In this theatre work, Agung invited attendees at the performance to change their attitudes of fear and sadness around death and loss: facing death in a natural, familiar manner appropriate for an event that people face every day. Through the poetry of Gunawan Maryanto, sung in ballads by Frau, he attempted to present death as a friendly and artistic event, which touched the audience's with emotions of false happiness or sadness. The main event of this meaningful performance was held to open the Printemps Français 2015, held at by the Institut Français Indonesia (IFI) in Yogyakarta.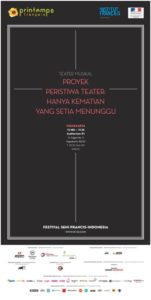 (poster source: http://ifi-id.com)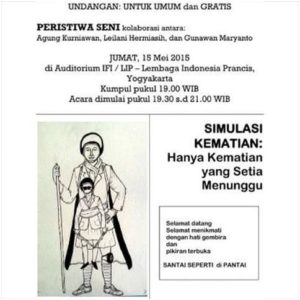 (poster source: http://ifi-id.com)
In the press conference for the Printemps Français 2015 at the Koesnadi Hardjasumatri Cultural Center (PKKH) at Gadjah Mada University, Agung said that "This theatre event changes the general perspective of many cultures towards death." He gave the example of Javanese tradition, where many parting ceremonies follow a death, and where the environment of the palace has in the past often been used in literature as a place to greet the death of an important person, even before the event has actually occurred. "In a number of cultures and religious faiths, death is seen as an important matter, just as birth is," he said. He also emphasised the participatory element of his work. "We also present theatre with strong interactions between the performer and the audience."
This performance was presented by Agung Kurniawan as a dress rehearsal for a mass in the style of the Catholic Church, a funeral ceremony that he has structured himself and which turns the audience into the "congregation", actors in the performance. This performance took place over 90 minutes, divided into two halves: a simulated dress rehearsal and an actual dress rehearsal with an interval between the two. Agung often invites the audience to participate as part of the performance of his works.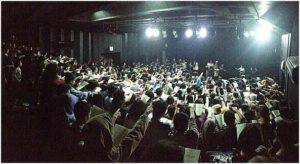 Image Source: Adi Adriandi in https://pbs.twimg.com/media/CFD_uEDUUAA-LmL.jpg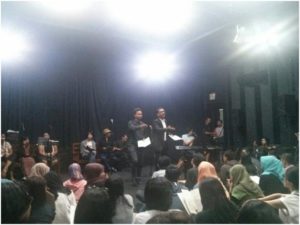 Image Source: https://tularasaakademie.files.wordpress.com/2015/05/wpid-img_20150515_193826.jpg
In this event, Agung directed the audience to join in reading the words to the mass, which they were given in a mass booklet after readings from several main performers.One of these performers, Frau, sang several ballads, among them So Long Marianne, Menunggu (Wait), and Berhimpun untuk Berpisah (Gathering to Part), to accompany this process, and the performance peaked when Agung Kurniawan removed his clothing piece by piece and put it in a box.Wearing only his underwear, Agung asked the viewers to promise to attend the ceremonies accompanying his death at a later date.
Agung made his congregation imagine his death and loss through lyrical poetry, accompanying melodies and narration from the booklet that Agung gave out at the beginning of the performance, which he had arranged with poet Gunawan Maryanto. This booklet resembled the congregational booklet given out during church liturgies. At the end of the performance, Agung handed out 47 original sketches to random audience members. Several of the sketches can be seen on instagram with the hash-tag #bukuberhimpun, along with responses from the audience. This theatre performance was also recorded and is intended for release on vinyl by Nirmana Records. (Sita Sarit)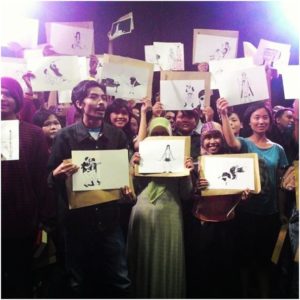 Image Source: http://Instagram.com
Source:
http://www.ifi-id.com/yogyakarta/proyek-peristiwa-teater-hanya-kematian-yang-setia-menunggu
https://m.tempo.co/read/news/2015/05/14/114666340/teaterbertemakematianbukafestivalseniprancis
http://www.warningmagz.com/2015/05/16/printemps-francais-2015-dibuka-dengan-upacara-kematian/
https://dalamnamadiaz.wordpress.com/tag/hanya-kematian/
https://tularasaakademie.wordpress.com/2015/05/15/review-peristiwa-teater-hanya-kematian-yang-setia-menunggu/