The shift in Agung's working medium from drawing to performance, although it has been evident since 2009, has since developed in line with the narrative of his work. Agung's performative activities are not like those of other performance artists, although they always involve almost all of the viewers actively, or if it is preferable, passively. Agung's performance works became automatic, machines that can move and work by themselves. In these works, the viewer is sometimes unaware that they have become involved in the work, so that they can sense the themes that Agung is addressing more deeply.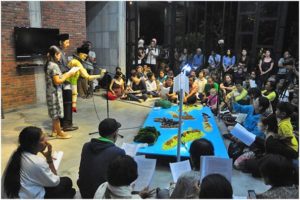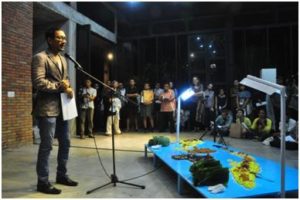 Masya Allah Transgenik
Courtesy of Biennale Jogja XII
Video Source: IVAA archive on youtube
One of his performances was conceived in 2013, when he was invited to join the Jogja Biennale XII in Yogyakarta. His artwork, titled Masya Allah Transgenic, presented a kind of communal meal, complete with yellow spiced rice arranged in the shape of map of Indonesia, on a blue table. In front of this map, Agung also invited two actors to perform with a puppet wearing a traditional Islamic hat, to read out a speech about food self-sufficiency made by Sukarno in 1952. Agung also implied a process of mystification, as the actors were asked to read the speech in the style of an Islamic recitation or a church liturgy; the audience was invited to read together from a script, affirming the speech at various points.
The main issue that Agung addressed in this work was in fact the weakness of Indonesia's crops; the impact of incompetent resource management threatens starvation and rising prices for staples. Agung ended his performance with an invitation for all present to enjoy the yellow rice and side dishes, and little by little the yellow rice was removed from the table until the whole map of Indonesia was revealed beneath it. On each island were printed the names of large companies such as Monsanto, Bayer etc., which signified the incompetence of resource management in Indonesia. Agung intended this work as a statement and propaganda to redress the imbalance of food and non-food production in Indonesia, tracing its origins and the ensuing impact.
This participatory event was most interesting because the presence and the physical involvement of the audience in the work created its own sense of acceptance and meaning for Agung's work, an alternative approach that resembled a theatre performance. In May 2015, Agung returned to using this method to present his new work, which attempted to present a dress rehearsal for his own death, titled Proyek Peristiwa Teater: Hanya Kematian yang Setia Menunggu (Theatre Event Project: Only Death Waits Faithfully) at the IFI Auditorium inYogyakarta. In this theatre work, Agung invited attendees at the performance to change their attitudes of fear and sadness around death and loss:facing death in a natural, familiar manner appropriate for an event that people face every day.
In this performance, he also invited other artists to support his actions, from singer-musicians, authors, directors through to visual artists and photographers, who all sang ballads or narrated the death, as if in a requiem for Agung. In this theatrical event, Agung directed the audience to join in reading the lyrics of the liturgy, which they were given in a mass booklet after first performer's reading.At the end of the performance, Agung handed out 47 original sketches to random audience members. These sketches were the original images for a new series of wrought iron works.
In this performance Agung presented a melancholy vibe, tempered with awkwardness due to the performance's intention to arouse the emotions we would usually experience unconsciously when we receive news of death, or attend the burial of a relative. However this event also offered an anticipation of emotions, and a new perspective on death, which the audience could borrow and repeat later.
Agung's latest performance work, presented at the 2015 Jakarta Biennale, addressed the phenomena of morality and sexuality developing in society. This work was given the title Pelacur-Pelacur Kota (Kecabulan sebagai Pelumas Demokrasi), or City Prostitutes (Obscenity as a Lubricant for Democracy) still presented a participatory and intertextual style. As part of this work, Agung borrowed Rendra's poem Bersatulah Para Pelacur Kota Jakarta (Prostitutes of Jakarta Unite), considered to be a meticulous yet bitter reflection of the social and sexual in Jakarta in the 60s and 70s, a position which he reexamines.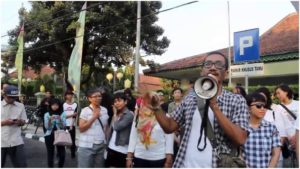 Festival Seni Mencari Haryadi
Courtesy of Indonesian Visual Art Archive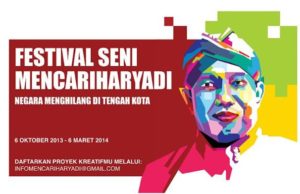 Festival Seni Mencari Haryadi
Image Source: http://festivalsenimencariharyadi.blogspot.co.id
Video Source: IVAA archive on youtube
Agung's changes in format and perspective regarding medium, both in his pictures and performance, and the shifting themes – violence, history, constructed memory – may seem linear, but unconsciously these shifts are actually a consequence of his ideas around public participation both in daily life, and in artistic events. Agung is aware that the themes of his work tend to address social political contexts, not inappropriate for direct, active involvement in society's celebration of democracy. An example is his previous work to initiate the Looking for Haryadi Festival, where he used art as a medium to channel criticism of the Yogyakarta mayor. Artistic political activity like this has a positive impact, and for Agung it can prevent destructive situations; not merely the peak of anger resulting from dissatisfaction, but the result of a joint artistic achievement.