Performance, 32 minutes, 2015
Saturday, 14 November 2015, 4pm-10pm
At the Sarinah Warehouse, 4 PancoranTimur II Road, South Jakarta
—
At the end of 2015, Agung Kurniawan was invited to join the Jakarta Biennale 2015. On this occasion Agung presented an intertextual and participatory performance work that looked at the phenomena of morality and sexuality.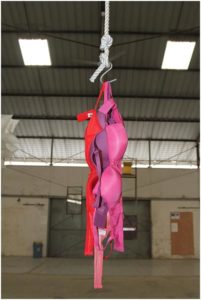 Image Source:https://indoartnow.com
Reading Bersatulah Para Pelacur Kota Jakarta (Prostitutes of Jakarta Unite), a poem by Rendra, was like a pilgrimage for Agung Kurniawan. He described revisiting Jakarta in the 1960s and 70s: night clubs proliferated, as well as hostesses, locals and gambling. Rendra's poetry sharply observed and critiqued the situation of the time.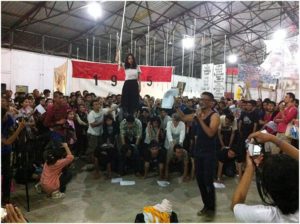 Image Source:https://indoartnow.com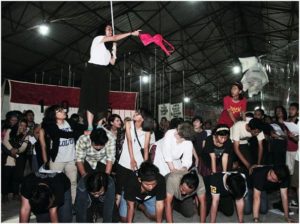 Image Source:Facebook Jakarta Biennale page, photo by @jinpanji
Jakarta today, according to Agung's observations, is a city arranged by the spirit of moralism. There are no longer places for pornography and "amoral" acts, which have in fact only spawned a different pornography industry on a massive scale on the internet.
This differs from the old style industry, which exploited women; for Agung, this industry is "more humane". The actors are young people who are aware of the capital they possess.They are professionals, in charge of their bodies as productive tools, and are not always dependent on a third party. The consumers come from professional fields, wealthy investors and decision makers in the nation. They are the appropriate lubricants for a busy Jakarta. Without them, the machine called Jakarta would stall.Rendra's poetry brings a rediscovery of this context.
In his performance, Agung shares Rendra's poetry among six actors, who take it in turns to read in six languages:Chinese, Arabic, English, Javanese, Indonesian and Binan – the popular dialect of the LGBTI community. Agung believes that text has universal values that can cross the ages. Through this performance, Agung opens up the possibilities for the involvement of many people, including the audience, as part of the performance. (Sita Sarit)
—
Source: