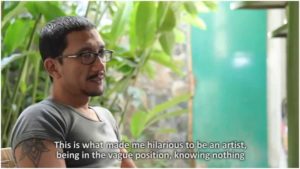 Image Source: Indoartnow youtube
Video Source: Indoartnow youtube
After his solo exhibition in 2006, Agung Kurniawan did not have another solo exhibition until 2011. Agung says that he has used the long break to work and enjoy himself, but in the art world, of course. In 2007 and 2008 he was involved in organising  the largest  festival of art in Yogyakarta, the Yogyakarta Arts Festival (FKY). As artistic director, he worked with all kinds of artistic practices and artists. His involvement in this large festival opened up all kinds of possible art mediums for him to use in his work today.
Apart from this, Agung filled this period of vacuum with a variety of activities, group exhibitions and presenting his work in Indonesia and overseas. These activities also spanned diverse scales from group exhibitions held by local private galleries, museums and international arts organisations, cultural symposiums and biennial events.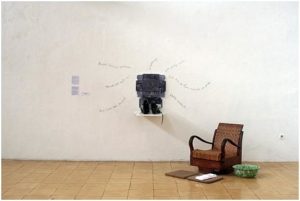 The Shoes Diary: Adidas Tragedy series
Image Source: https://indoartnow.com/
Video Source: IVAA archive on youtube
In all these activities, Agung not only represented as an exhibiting artist, but also took part in symposiums and travelled, for instance to"The Making of the New Silk Roads" in Bangkok and the Grant Orientation Trip to Latin America in 2009. He was also invited to curate the "Focus on Indonesia" project in Turin and to attend the "Cultural Stakeholders Meeting Asia" in Bangalore for other positions, namely as a representative of the Indonesian Visual Art Archive (IVAA). As an artist, Agung was involved in the Be(com)ing Dutch: The Dutch Day Dreaming exhibition at the Van Abbe Museum in the Netherlands in 2008, and in the following year returned to the land of the tulip to exhibit in Beyond the Dutch at the Centraal Museum in Utrecht.
For the Biennale Jogja X in 2009, he initiated a performance project titled One Minute Mute. In a project at "titik nol",  Yogyakarta city's centre-point, he explored the possibilities of interacting with the general public, and turned them into participants in the performance. This kind of interactive performance, as a working concept and as an expression of his concerns about public space and city politics, was sufficient background to subsequently build on his inclination towards performative and  political actions.
In these efforts, especially in 2009 and 2012, Agung also continued to explore and process his drawing-based works about constructed memories. He made several series of wrought iron works based on photographic documentation from the past and from memory. The figures were then hung on the wall to create shadows that fell behind the wrought iron when light was cast onto it, the firm lines of the iron and the subtle shadows combining to depict blurry constructions, between images of reality and fiction, history and memory.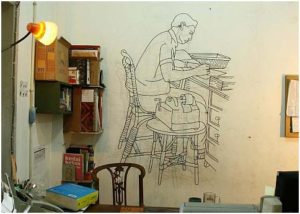 Klerk
Image source: https://indoartnow.com/
Agung has made many series of work using wrought iron as a medium. One of these series was called Seri Orang Yang Kalah (2010) or the Loser Series, and was exhibited in his solo exhibition "The Lines That Remind Me of You" at the Kendra Gallery, in Bali in the year 2011, taking up the theme of the blurry memories of the past, memories that become a bridge between the present and the past. In that solo exhibition, Agung not only exhibited wrought iron, which has become the medium he is identified by, but also drawings, water-colours and pastel on paper. This solo exhibition seemed to open a new chapter for him, signifying a new identity. (Sita Sarit)