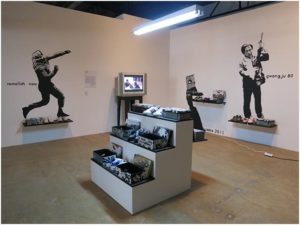 The Shoes Diary: Adidas Tragedy series
Image Source: https://indoartnow.com/
Agung has said that wrought iron is, in fact, a second wife for him, adding that drawing is his first wife. On his choice of medium, Agung acknowledges that when he works with wrought iron, he must think logically, by planning his entire concept entirely in relation to the material and themes. Meanwhile, with pictures, especially works on paper, he is free to interpret the photos he has found through pictorial metaphors, sometimes presenting visual elements alone, without any particular plan.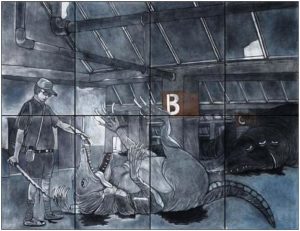 Requiem for the Dragons, for Banyu Bening Savaraja
Image Source: https://indoartnow.com/
Drawing, which is sometimes automatic and unplanned, was also Agung's inspiration when he was invited to curate the art project Pause: Automatic Drawing Simple and Dangerous, at the Langgeng Art Foundation, Yogyakarta, in 2011. The exhibition also included work by a number of young artists and Agung: three automatic drawing machines that were given the names of artists from three different periods.These machines, which resembled metal spiders almost the height of a person, were chained to a stake and given coloured chalk in order to move around and draw particular patterns on the floor. The drawing machines then became a central medium for Agung in looking at contemporary art, offering different drawing approaches with a connecting thread:criticism, mental notes and the traces of spontaneity.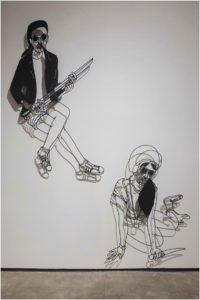 #1 I Am Ready for You,Babe (Kimcil series)
#2 Dendam Membara pada Lelaki Durjana (Kimcil series)
Image Source: https://indoartnow.com/
In his years of reflection (2009-2011), Agung also explored forms of drawing in new fields, and how to deepen the viewing experience with collaborative performances when he displayed his work.One of the drawings he combined with perfomance was the work Adidas Tragedy, which was exhibited in the Printmaking Today exhibition at the Bentara Budaya space in Yogyakarta, in 2008, in a redeveloped form in the Mental Archive exhibition in 2010 and then again in the Gwangju Biennale in 2012.
In this series of work, Agung used Adidas shoes only as a medium to express historical issues through an everyday object. Agung used the Adidas City Series, a series of shoes themed around cities of the world, as a basis, albeit with an ingenious shift by depicting of series of cities that have experienced conflict and human tragedy. Agung's city series featured Cairo 2011, Beijing 1989, Boyolali 1967, Cambodia 1975 and Gwangju 1980.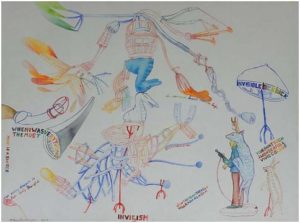 #3 "Things that Write Their Own Stories" (series)
Image Source: https://indoartnow.com/
Agung wanted to revive the viewers' memories of these cities  by using silkscreen on shoes, and also unique visual depictions of these tragedies on the shoe boxes, which were installed as if in a shop display. The use of casual shoes to was intended to draw the attention of a younger generation of viewers, who have forgotten or are unaware of these tragedies. In his performance, Agung invited the audience to participate in a process of remembering, by trying on a shoe that had a small piece of gravel concealed in it to make it uncomfortable to wear. Agung used that discomfort as an example of the accumulation of pain that results from tragic humanitarian disasters, especially if they are not yet properly resolved.
Agung's Adidas series, along with his automatic drawing machine works and his more recent wrought iron series', were exhibited together and separately in group exhibitions and solo exhibitions in Indonesia and abroad. Actus Contritionis at Umah Seni, Jakarta in 2012, and Milik Nggendong Lali in Singapore in 2013, took up the theme of cultural and political identity in Javanese society. (Sita Sarit)